Powerful integrated control system for compressors and Air treatment system
MICOS-Ⅲ Ethernet based compressor controller and Air Solution, the compressed air master control system within Windows environment are suited to managing various compressor systems including compressors and air treatment systems. Air Solution can control the operation of compressor systems automatically according to the various air demand of each factory and it is very simple to connect to an available computer network. Any kinds of compressors can connect to Air Solution and it can guarantee maximum energy saving, safe and efficient operation of compressor system with minimum investment.
MICOS-Ⅳ Controller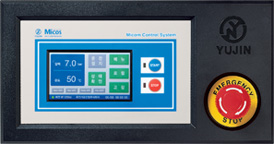 · Operation mode : Automatic / Remote / Continuous / Scheduled
· Main functions

- Real time control of outlet pressure and temperature
- Automatic stop, restart and stop delaying function
- System Protection function : Main and Fan motor overload,
over temperature, detecting failure sensors and electric components
- Maintenance message display : Alarm for replacing consumable
parts
- Statistic function : operation hours, running time of consumable
parts and failure status
- Equipped with ModBus interface as standard
Air Solution Integrated Control
· Safe and easy set-up by ModBus LAN method
· Controls compressors by YUJIN and other compressor maker
· Accurate pressure control in response to air demand change
· control compressor, monitoring, statistic, report generation
· Option :Remote monitoring by touch-screen monitor application
· Option : SMS messenger service
· Easy input vallue composition and operation
· Internet Web System
Install simply to connect compressors and PC by connecting LAN cable.
Control compressor system optimally with Various HMI screen.
Monitor and control operation status, system faults and pressure band control of main pipe line.
Powerful control, monitoring, statistic and reporting function.
Install simply to connect LAN cable at user's office.
Monitor and control operation status, system faults and pressure band control of main pipe line.
Remote monitor get all functions of Air Solution.
Send SMS message automatically on happening abnormal operation or system faults.
Send SMS message to 18 mobile phone numbers.
Set various SMS message according to the various fault condition.